Tino Fulimeni Scholarship
Information for 2014 will be posted when it is made available.


Check It Out!
Videos Created By Steelworkers

| | | |
| --- | --- | --- |
| | ATTENTION | |

---

Oct. 15, 2014
Winter 2015 Class Catalog. (more...)

---
JobLink is a workplace learning center created as a result of the 1989 bargaining contract between the steel industry and the United Steel Workers of America.
Working with the Institute for Career Development, JobLink was started in July 1990 to provide educational opportunities for job enhancement, personal development and successful retirement for Local 1010 members. In addition, Local 1010 members are eligible to receive Tuition Assistance funds to attend classes at other educational institutions. Retirees and Spouses of Active Local 1010 members may also attend classes when no additional costs are incurred.
Bernard Kleiman JobLink Learning Center is located at ArcelorMittal USA in East Chicago, Indiana.
---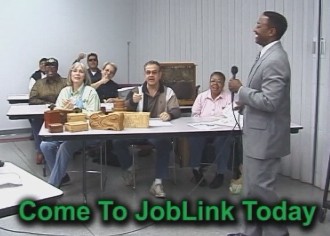 A message from JobLink.
(Click on photo to view.)
---
Page last revised on October 15, 2014 12:44 PM



Click on the Star
(Active 1010 Steelworkers only)
We need your contact information so that we can keep you posted about the latest updates to classes and your educational benefits.


Register by Phone
Active Local 1010 members have the option of registering by phone by calling (219) 399-8136 or (219) 399-8135 Mondays through Thursdays, 8:30 a.m. to 4:30 p.m. and Fridays, 8:00 a.m. to 4:00 p.m.